Welcome to Adams Ranch
Fort Pierce, Florida | Phone: 772.461.6321
Registration for the 2019 Online Auction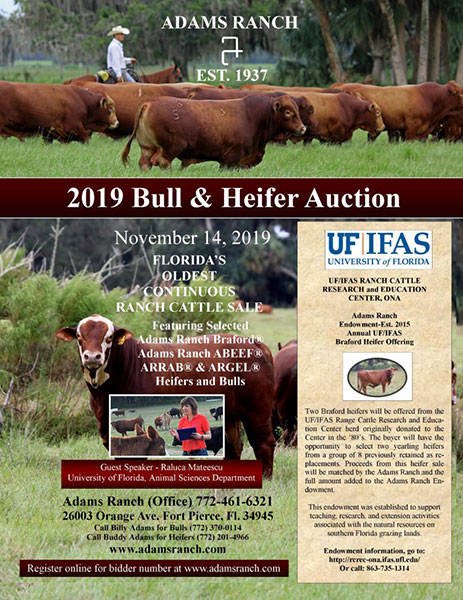 This sale will be broadcast Live on www.CattleInMotion.com.
To view a sale:
1. Create an Account, if you have already done so skip to next step. To create a new account, click on the words Create New Account at the top right-hand side of your screen. You must fill out the information with a red asterisk next to it. Then click Create new account. You are logged in if you see in the upper right-hand side of the screen My Account and Log out.
2. Under upcoming events, you will need to click on the event you are wishing to watch. 3. Scroll down the page under the section that says Process to Bid Online, CLICK THE WORDS "COMPLETE LIFETIME VERIFICATION". (Clients only need to complete this one time) You will be directed to CIMs shopping cart page. Then click add to cart, then click check out and enter the credit card info.
3. Click on the Sale under upcoming events, then scroll to the bottom of the page, to the sign-up area. You must enter your phone number and click I agree to sale terms and conditions. Then below the sign-up area, on the day of the sale, there will be a click here to enter the auction button. Click the button and that will take to you to the sale.
A Special Event at Adams Ranch
Join us for a night of live entertainment, dinner and dancing under the stars. The Paradise Found Dinner will benefit over 340 children, youth and human trafficking victims that are in our daily care at Place of Hope, all while celebrating Old Florida and the beautiful outdoors.
Presented by GLHOMES®
Hosted by Adams Ranch
26003 Orange Ave, Fort Pierce
December 6, 6 PM – 10 PM
To secure your sponsorship or tickets, visit
placeofhope.com/paradisefound